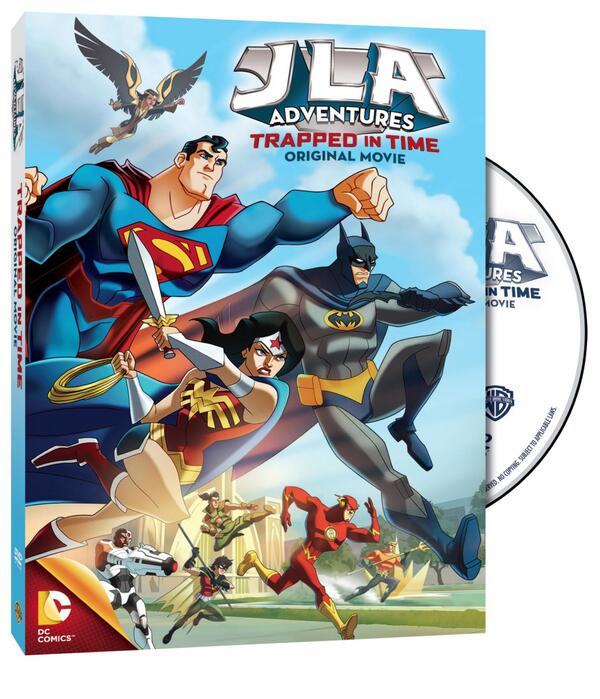 World's Finest received more details regarding JLA Adventures: Trapped in TIme.
JLA Adventures: Trapped in Time will be released as a DVD on January 21, 2014 exclusively at Target retail stores. The synposis of the animated feature is as follows:
"Get ready for a battle of the ages when the Justice League faces off against its archenemies, the Legion of Doom, in an all-new movie from DC Comics. A mysterious being known as the Time Trapper arises, and a sinister plan led by Lex Luthor sends the Legion of Doom back in time to eliminate Superman, Wonder Woman, and Batman before they become superheroes. For Aquaman, Flash, and Cyborg, along with teen super heroes Karate Kid and Dawnstar, the stakes have never been higher, the rescue mission never deadlier. So join the fight for the future as the Justice League confronts its ultimate challenge…the threat of having never existed."
Fans will be able to see most of the Justice Leaguers such as Superman voiced by Peter Jessop, Batman voiced by Diedrich Bader, Robin voiced by Jack DeSena, Wonder Woman voiced by Grey DeLisle , Aquaman voiced by Liam O'Brien, Flash voiced by Jason Spisak, Karate Kid voiced by Dante Basco, and Dawnstar voiced by Laura Bailey. The characters in Legion of Doom will be Lex Luthor, Cheetah, Solomon Grundy, Bizarro, Gorilla Grodd, Black Manta, Toy Man, Captain Cold, and Time Trapper. The feature was written by Mike Ryan, produced and directed by Giancarlo Volpe, and animated by DR Movie.
There is no set retail price for this animated feature yet, but it will arrive at Target in a couple of days.
Posted by Kristina Collins