Variety has reported that Warner Bros. has expanded its relationship with Lego to include all characters from the DC Comics.
The multi-year contract will launch a new line of figures that will hit stores this January. Batman characters include Batman, Harley Quinn, Joker and Bane.
According to Variety, there will also be a number of new figures given away at Comic Con to help celebrate the launch. Here are the details:
The first toys will be shown off at the Lego booth at Comic-Con Intl. this week at San Diego, where 3,000 exclusive Batman and Green Lantern minifigures will be distributed to launch a promo that runs August-December enabling fans to create and submit videos, photos or illustrations of the characters to win trips to Legoland and Warner Bros. Studios.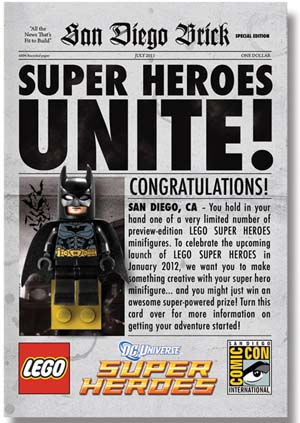 Stay tuned for more details as Warner Bros. has promised an official press release tomorrow. Also there is sure to be more information for Comic Con about this extended partnership.
Posted by Dustin Fritschel